Purgatory and the Means to Avoid It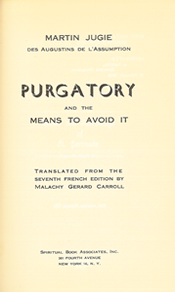 PREFACE
For man here on earth, there can be no greater problem, no more pressing subject for reflection, than the hereafter. The future life, indeed, is very near to him. He brushes shoulders with it, so to speak, for a mere nothing separates him from it. No one has any security against death, since youth and age, riches and poverty are all powerless against it. We listen to the last swing of the church bell, tolling someone's death. It dies in the silence of the meadows. Its next toll may be for any one of us.
This is true of all times, but more especially so of ours, when the scourge of war is laid on us, and the daily death-roll grows ever greater. Every book, therefore, that treats of the future life, ought to receive a welcome.
Such books are not wanting in French. Some treat the subject fully, dealing with the four last ends: death, judgment, Hell, Heaven. Others treat of one of these truths, and a great number of these deal with Purgatory. Purgatory does not figure in the list of the four last ends, for it is essentially a passing state, wholly orientated towards Heaven, of which it is the ante-room. Moreover, for the greater part of those who are saved, it is the state which they first experience on leaving this world. It is not to be wondered at, then, if a dozen or more books have appeared in France on the subject, in the present century. We have no wish merely to add another to the list, covering the same ground. Our reasons for writing this is that we have remarked how other writers have treated of Purgatory in itself and for itself -that is to say, with a view to making known the state of these suffering souls and inspiring the living to aid them. Now, Purgatory can be looked at from a different point of view, which without excluding the first, tends directly, however, to another end. The others have written with their eyes primarily on the dead. We write with our eyes on. the living-the faithful on earth-and we strive to foster in them a salutary fear of the pains of Purgatory, and point out to them the means of avoiding them. This is a resume of our point of view in the following pages.
The first point is, above all, an expose of the doctrine of Purgatory, according to definitions of the Church and the conclusions of sound theology. Theology pursues its investigations beyond dogma, having dogma always for its guide. It attempts to throw light on what is obscure in the definitions ; to make precise what they leave vague,' sometimes, to at the implications of their silence. It is evident that much of what we say must needs be a repetition of what others have said before us, for it is difficult to add much at this time of day. We believe, however, unless we are greatly mistaken, that we have exposed certain truths on the state of souls in Purgatory, here and there in our work, which if not altogether new have rarely received sufficient attention. We have drawn the logical conclusions of the truth of faith, which defines that these suffering souls are established in a state of grace and holiness, and that this state is definitive, secure, incapable of substantial progress-since there can be no question of merit after death.
As to the second part: "The Means of Avoiding Purgatory," it has appeared as articles in that excellent revue "Les Croises du Purgatoire," and is assembled here, at the request of many of those to whom the book is now dedicated.
The dedication, and the choice of the patronage of her who first began tile glorious" Heroic Offering," are sufficient indication that, while "Purgatory and the Means of Avoiding It" envisages primarily the living, the dead are not forgotten. It seeks, indeed, to convince the first that one of the securest means of avoiding Purgatory is to aid the souls suffering therein. Let us remark, in passing that the sufferings of war and the hardships of its aftermath, provide a splendid occasion of salutary penance and of aid for the Holy Souls. Generous acceptance of all hardships in a spirit of penance, with the intention of aiding the souls in Purgatory is all that is needed. Thus we will realize the words of St. Paul:
"All things work together unto good for those that love God" (Rom., vii, 28).
If we know how to make wise use of the treasures that are in our daily sufferings, we shall enrich ourselves with merits for eternity, we shall be the benefactors of Purgatory, and we shall prepare ourselves for immediate entry into Heaven.
Lyon, 9th January, 1940.
Translator's Note:
My thanks are due to Miss Cecilia Patterson of Notre Dame, Glasgow, for the proof-reading of Part Two. M.G.C.
Table of Contents


PART ONE

PURGATORY

I-THE CATHOLIC DOCTRINE OF PURGATORY

1. - General Notion.
2. - Why Purgatory?
3. - Purgatory: an Expiation.
4. - Prayer for the Dead.
5. - State of Souls in Purgatory.

II-THE SWEET PURGATORY OF REASONABLENESS
1.- Purgatory, Masterpiece of Divine Wisdom.
2.- Purgatory, Masterpiece of Divine Goodness.
3.- Purgatory, a Dogma of Consolation.
4.- Purgatory, a very Sanctifying Dogma.
III-PLACE, POPULATION AND SOCIETY OF PURGATORY
1. - The Place of Purgatory.
2. - The Population of Purgatory.
3. - The Society of Purgatory.
IV THE PAINS OF PURGATORY
1. - Nature of Pains.
2. - Intensity of Pains.
3. - Duration of Purgatory.
4. - Purgatorial Pain and Private Revelations
V-LIFE IN PURGATORY

1. - Erroneous Conceptions.
2. - Relations with God.
3. - Relations with Church Triumphant.
4. - Relations with Church Militant Joys of Purgatory.
VI - THE CHURCH TRIUMPHANT AND PURGATORY
1. - Foundation and Mode of Our Power.
2. - Means of Helping the Holy Souls.
3. - Reasons for Helping the Holy Souls.
4. - Prayer to the Holy Souls.
VII - THE CHURCH MILITANT AND PuRGATORY

PART TWO

MEANS OF AVOIDING PURGATORY

I - GENERAL CONSIDERATiONS.
1 .- Is avoidance possible?
2. - True for some Souls.
3. - The Best Means of Avoiding Hell.
4. - Why Avoid Purgatory?
5. - Various Means.

II-THE SACRAMENTAL MEANS
1. - Baptism.
2. - Martyrdom.
3. - Frequent Confession.
4. - Indulgences.
5. - Frequent Communion.
6. - Extreme Unction
7. - Mass of the Living.
8. - The Religious Life.
III - HOLY DISPOSITIONS AND SALUTARY PRACTICES
1 .- Spirit of Penance.
2. - Acceptance of Trials and Death.
3. - To do All for Love.
4. - Remission of Debts.
5. - To Avoid Judging Others.
6. - Spiritual Infancy.
7. - Detachment.
8. - Constant Remembrance of the Last Things.
9. - To ask for One's Purgatory on Earth.
IV-OF CERTAIN EXCELLENT ACTS OF CHARITY
1. - Apostolate of Purgatory.
2. - Prayer for Deserted Souls.
3. - The Heroic Act.
4. - To Offer Oneself as a Victim.
5. - Apostolate of Prayer.
6. - Prayer for those in their Agony.
7. - Catholic Action.
8. - The Apostolate after Death.

(i) Work of Priestly Vocations
(ii) Foundation Masses for the Dead.
(iii) Foundation of Parochial Missions
(iv) The Good Book.


9. - Material Alms