Holy Souls Book, Reflections on Purgatory:
A Complete Prayer-Book including Special Prayers and Devotions in Behalf of
the Poor Souls in Purgatory, by Rev. Father Francis X. Lasance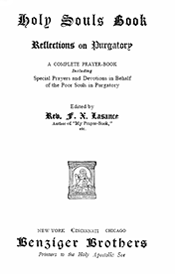 This is one of Father Lascane's books to which His Holiness refers to in the following letter:

His Holiness (Pope Pius XI) wishes that these volumes, which assuredly will promote the spiritual life, may receive an ever increasing welcome in all the Christian families of your great country.
FORWARD
In offering the present volume to the faithful, our object is to aid in cultivating among them, with the help of God's grace, a special devotion — a more fervent, a more persistent, a more practical, a more fruitful devotion to the holy souls in Purgatory. This devotion, while it solaces the Holy Souls, in whose behalf it is directly exercised, is eminently pleasing to God, and beneficial to ourselves.
St. Frances de Sales says:
"We do not sufficiently remember our dead."
The holy Cure d'Ars once said:
"Oh, my friends, let us pray much, and let us obtain many prayers from others, for the poor dead; the good God will render us back the good we do to them a hundred fold. Ah, if every one knew how useful this devotion to the holy souls in Purgatory is to those who practice it, they would not be forgotten so often; the good God regards all that we do for them as if it were done to Himself."
We read in the Second Book of Maccabees [a historical writing, the Christian can't ignore]:
"It is a holy and wholesome thought to pray for the dead, that they may be loosed from sins."

It is hoped that the "Reflections" contained in the first part of this little book will stimulate the pious reader to make frequent use of the prayers and devotions which are found in the second part for the solace of the suffering souls in Purgatory. Let us heed the cry of these Holy Souls from the depths of torturing flame: "Miseremini!" "Have pity on us!" Day by day may the richly indulgenced versicles and responses for the dead fall, as it were, unceasingly from our lips:
V. Eternal rest give unto them O Lord.
R. And let perpetual light shine upon them.
V. May they rest in peace.
R. Amen.

"All ye, who would honor
The saints and their Head,
Remember, remember,
To pray for the dead;

And they, in return,
From their misery freed,
To you will be friends
In the hour of need."
Table of Contents
Forward


Table of Movable Feasts


PART ONE
Reflections on Purgatory
I. Purgatory
Location of Purgatory
Purgatory in the Divine Plan
II. Proofs of the Existence of Purgatory
On the Sufferings of Purgatory
On the Causes of Purgatory
On the State of the Souls in Purgatory
On the Duration of the Sufferings of Purgatory

III. "Have Pity on Us!"
IV. Apparitions
V. We Owe It to God, to Our Neighbor, and to Ourselves to Help the Poor Souls in Purgatory
First Point - We Owe It to God to Help the Souls in Purgatory

Second Point - We Owe It through Charity toward Our Neighbor to Help the Souls in Purgatory

Third Point - We Owe it to Our Own Interests to Help the Souls in Purgatory - Example

VI. Gratitude of the Holy Souls - By Their Prayers They Can Help Us
VII. Two Views of Purgatory
VIII. Union of the Two Views of Purgatory
The Suffering and Helplessness of the Holy Souls

IX. Devotion for the Conversion of Sinners and Devotion for the Holy Souls
X. Devotion to the Holy Souls in Relation to Other Devotions
XI. Means of Assisting the Holy Souls in Purgatory
XII. The Heroic Act
Formula for Making This Offering
XIII. The Gregorian Masses for the Release of the Souls in Purgatory
XIV. Voices from Purgatory
Spiritual Bouquets for the Dead

XV. The Blessed Virgin Mary, the Angels, and the Saints in Relation to the Holy Souls
All Saints - All Souls
Our Lady
The Angels
St. Joseph
St. Thomas Aquinas
St. Catherine of Ricci
St. Philip Neri
St. Bridget
St. Margaret of Cortana
St. Gertrude
St. Magdalene of Pazzi
St. Dominic
St. Augustine
The Saints in Reference to Works of Penance for the Holy Souls
St. Ludwina's Spirit of Penance for the Holy Souls
St. Caesarius of Arles
St. Bernard and St. Malachias

XVI. The Origin of All Soul's Day
XVII. The Happiness of Purgatory
XVIII. The Alleviations of Purgatory
XIX. Means to Avoiding Purgatory
XX. How to Help the Holy Souls in Purgatory
XXI. Purgatory
Intercession for the Departed

PART TWO
Devotions
HOLY DAYS OF OBLIGATION
LAW OF ABSTINENCE AND FAST
MANNER OF BAPTIZING
BLESSING BEFORE MEALS
GRACE AFTER MEALS
THE MOST NECESSARY PRAYERS
MORNING PRAYERS

Offering Of Apostleship Of Prayer

EVENING PRAYERS
A Night Prayer By St. Alphonsus
INDULGENCED PRAYERS ARRANGED FOR USE AT MASS
MASS OF THE HOLY CROSS
MASS FOR THE FAITHFUL DEPARTED
BURIAL SERVICE AND MASSES FOR THE DEAD
Burial Service For Adults
Mass for the Dead
The Absolution (after Mass)
Prayers at the Grave
Mass of the Third, Seventh, or Thirtieth Day After Death
Mass on the Anniversary Day of Death
The Mass Of All Souls' Day
The Common or Daily Mass

Collects
Secrets
Postcommunions
Various Prayers For The Dead
DEVOTIONS FOR CONFESSION
Before Confession
Prayer
Examination Of Conscience
Preliminary Examination
Examination On The Ten Commandments Of God
Examination On The Precepts Of The Church
After The Examination

An Act Of Contrition
An Act Of Charity
Thanksgiving After Confession
Ejaculations
DEVOTIONS FOR HOLY COMMUNION
Before Communion
Direct Your Intention
Acts Of Faith, Adoration, Hope, Charity And Contrition
Prayer
After Communion
Acts Of Adoration, Thanksgiving, Reparation, Prayer
Suscipe
The Anima Christi
Prayer For The Church And Supreme Pontiff; For Friends, Relatives, And Benefactors; And For The Holy Souls In Purgatory
Ejaculation
O Sacrum Convivium
Prayer before a Representation Of Jesus Crucified
ANOTHER FORM OF DEVOTIONS FOR HOLY COMMUNION
Before Communion
An Act Of Faith And Adoration
An Act Of Hope
An Act Of Love And Desire
Act Of Contrition
An Act Of Humility
Domine Non Sum Dignus
After Communion
Welcome
Faith and Adoration
Hope
Love
Consecration
Prayer
Oblation
Thanksgiving
Prayer of St. Thomas Aquinas
Offerings, Thanksgiving, And Petitions Of St. Gertrude
Anima Christi, Sanctifica Me
Prayer To Jesus In The Sacrament Of The Altar
Ejaculations
Prayer To The Sacred Heart Jesus
Thanksgiving And Petitions
Indulgenced Prayer Be Said After Holy Communion
Prayer For Perseverance
Ejaculations
A Plenary Indulgence at the Hour of Death
Thanksgiving to the Holy Trinity
Indulgenced Prayer to Jesus Crucified

BENEDICTION OF THE BLESSED SACRAMENT
O Salutaris Hostia
Tantum Ergo Sacramentum
Adoremus In Aeternum.
Laudate Dominum
An Act Of Reparation For Profane Language
THE STATIONS OF THE CROSS

LITANIES
Litany Of The Holy Name Of Jesus
Litany Of The Sacred Heart Of Jesus
Litany Of The Blessed Virgin Mary
Litany Of St. Joseph
Litany Of The Saints For The Faithful Departed
GRADES OF THE PASSION
PRAYER OF ST. ALPHONSUS LIGUORI FOR A VISIT TO THE BLESSED SACRAMENT
PRAYER OF ST. ALPHONSUS LIGUORI TO THE BLESSED VIRGIN
THE MYSTERIES OF THE HOLY ROSARY
AN HOUR OF PRAYER FOR THE SOULS DEPARTED
Hour Of Adoration Before The Blessed Sacrament In Behalf Of The Souls In Purgatory
The Five Sorrowful Mysteries Of The Holy Rosary, Said Before The Blessed Sacrament For The Souls Departed
Prayer In Honor Of The Seven Sorrows Of Mary For The Faithful Departed
Prayer In Honor Of The Seven Joys Of Mary For The Faithful Departed
The Father" For The Faithful Departed
The "Hail Mary" Adapted For The Souls In Purgatory
CONDITIONS FOR INDULGENCES

INDULGENCED PRAYERS FOR THE FAITHFUL DEPARTED
The De Profundis
Holy Week
Pater And Ave
Prayer For Each Day Of The Week
Prayers For Nine Or Seven Days
League Of Perpetual Suffrage
Month Of November
Devotion To The Five Wounds
Prayers To Jesus Suffering, For The Holy Souls
Prayer For The Dead
Versicles And Responses For The Dead
Prayer For Children In Purgatory
All Souls' Day - The Holy Souls
INDULGENCED EJACULATIONS
The Sign Of The Cross
The Holy Trinity
The Angelic Trisagion
Almighty God
The Holy Ghost
Jesus Christ
Invocation Of The Holy Name
The Blessed Sacrament
Jesus Crucified
Prayer For A Happy Death
The Precious Blood
The Sacred Heart
Mary
Prayer For A Good Death
The Holy Angels
St. Joseph
Offering Of Masses For The Dying
Plenary Indulgence At The Moment Of Death
The Faithful Departed
Ejaculations For A Happy Death
TO OUR BLESSED LADY FOR THE SOULS IN PURGATORY
SHORT LITANY WITH THE ANGEL OF THE AGONY
LITANY OF THE FAITHFUL DEPARTED