The Divine Crucible of Purgatory
EDITOR'S PREFACE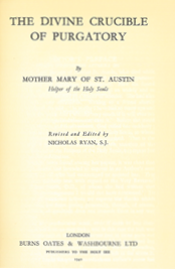 This book from the pen of Mother St. Austin, who died while she was still Mistress of Novices, is a work of much preparatory study, reading and meditation on Purgatory. How she found time amid her many onerous duties to read so widely and to compose her book will ever be a matter of wonder. She had also to overcome many difficulties. Writing to a friend shortly before her death she said:
'In reality I have had so many ups and downs with the book that I wonder very much if it will ever see the light ... perhaps God does not want it.'
Before she could attempt a complete and final revision,
God called her suddenly; and her last work of devotion towards the Holy Souls, to whom she had consecrated her life, remained unfinished. That is the reason why it has fallen to another, with the sanction of the Superior General of the Helpers of the Holy Souls, to prepare her manuscript for publication.
From certain notes found among her papers, it was clear that Mother St. Austin had intended to express in an Author's note her gratitude to all who had encouraged or assisted her. This intention was specially true with regard to the Very Reverend George Canon Smith, D.D., of whom she had written that, without his encouragement I would not have continued. To him and to all unknown helpers we express the thanks which God prevented her from giving personally, though, of course, this expression of gratitude does not commit them in any way to her views.
To revise any posthumous work, even if more or less completed, has never been an easy task; and in this case the task was made not more easy in that the authoress had, in some parts, not completed her arrangement of thoughts and had also cited but few references for her numerous quotations. An odd quotation, here and there, is still untraced and has been left as she wrote it. On the other hand, the poems to which no author's name has been appended, have been composed by herself. Any slips or errors in references are due entirely to the Editor.
It may seem to some readers that there is some slight redundancy of thought in Chapter III and Chapter IV. The explanation of this is that the original book began with the present Chapter IV and that the authoress had been advised to write a few introductory chapters. Before Mother St. Austin died, she had hastily composed three preliminary chapters and, although these chapters have been considerably revised by the Editor, he has left Chapter IV as he found it.
Finally, may we point out to the Reader that the central thesis of this book shows a close similarity (mutatis mutandis) to the words in a vision vouchsafed by Our Divine Lord to St. Margaret Mary. Showing His Sacred Heart, He said:
'This is the divine Purgatory of My Love in which you must be purified; I will afterwards make you find in it an abode of light, and finally of union and transformation.'
That saying of Our Lord may be said to present us with a synthesis of Mother St. Austin's book.
NICHOLAS RYAN, S.].
St. Aloysius' College, Garnethill, Glasgow.
Table of Contents
SECTION I

PRELIMINARY CHAPTERS
Chapter I — The Separated Soul
Chapter II — The Effects of Sin
Chapter III — The Completion of Life's Work
SECTION II — THE HOLY SOULS IN THEIR RELATION TO THE DIVINE ATTRIBUTES
Chapter IV — The Holy Souls are Cleansed by the Attributes of God

PART I — The Sufferings of the Dark Night



Chapter V — In the Justice of God the Holy Souls See The Fitness of Their Punishment
Chapter VI — In His Light They Learn the Malice of Sin
Chapter VII — In The Long-Suffering of God, The Holy Souls Mourn The Ingratitude of Deliberate Venial Sin
Chapter VIII — In God's Sanctity Their Least Imperfections Are Burnt Away
Chapter IX — The Souls in Purgatory See Their Nothingness and Loneliness in the Plentitude of God's Being
Chapter X — The Holy Souls Feel Their Privations of God
PART II —The Silence of the Twilight

Chapter XI — The Holy Souls Plunge into God's Hiddenness
Chapter XII — The Holy Souls Enter Into God's Immensity of Solitude
Chapter XIII — The Holy Souls Pass into God's Silence
SECTION III — THE HOLY SOULS IN THEIR RELATION TO THE DIVINE OPERATIONS


Chapter XIV — God Make the Holy Souls Like Unto Himself
Chapter XV — The Participating Work of "The Father" Upon the Holy Souls
Chapter XVI — The Illuminating Work of "The Word of God"

Chapter XVII — The Divine Work of Transformation Into The Unifying Companionship of the Blessed Trinity
Chapter XVIII —The Divine Work of Transformation Into Unselfish Love of God
SECTION IV — THE HOLY SOULS IN THEIR RELATION TO OURSELVES


Chapter XIX — How We Can Help the Holy Souls

POEM: The Soul Sanctified by God's Divine Attributes in the Flames of Purgatory

Index of Subject and Persons